ANIMAL HOSPITAL STALKER (published 6 April 2002)
Can you see what it....oh forget it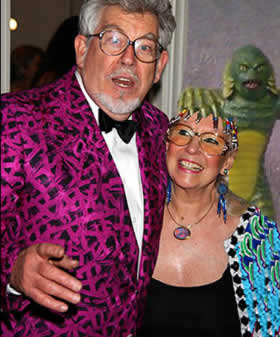 Rolf Harris has revealed that the creature from the Black Lagoon has taken to stalking him after apparently being besotted and indeed smitten by recent showings of Animal Hospital in Lagoons, black and otherwise, across the country.
At a recent celebrity bash for Best TV Programmes Not in Receipt of an Award Yet, onlookers looked on in disbelief and cardigans as the creature reared up behind Rolf and his lovely wife with multicoloured beaded hair whose name escapes us. She is a top Sue Pollard impersonator however.
The monster was only foiled in its attempts to caress the top Ozzy Artist's garments by a fan who inadvertently elbowed it in the nether regions whilst jockeying for the prime autograph collecting spot.
Police have warned celebrities and animal fanciers to be extra vigilant. Whatever that means.
BETTING BONANZA SPREADS (published 6 April 2002)
Chick Wars
The West's lax gambling laws are being felt throughout the world as this latest picture of a chick fighting contest in Afghanistan reveals: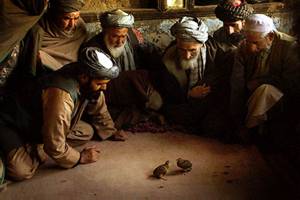 (The one on the left won by a narrow beak at 25-1)
PUPPY POWER PRESSURE (published 13 April 2002)
Giant Andrex Puppy Terrorises Thieves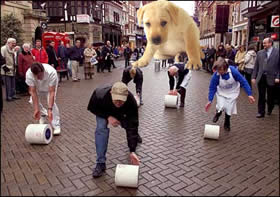 As the organised crime wave spreads, supermarket bosses are deploying huge canines in a bid to clamp down on shoplifters. Our picture shows a terrified gang of toilet roll thieves being hotly persued by the genetically modified clone of an Andrex puppy especially created for the task.
It is understood that similar plans are afoot to clone other celebrity animals such as My Little Pony in an effort to disarm would be roughnecks and thugs in general.
A spokesperson for the Polis Escotia, PC Murdoch, commented yesterday, 'It's important that hardened thieves are confronted by seemingly innocuous fluffy animals which later mutate to gargantuan proportions, don't you think?'
BALACLAVA BAN BACKFIRES (published 13 April 2002)
Knitwear Fans Up in Arms... and Buttons
It's cold up north and the polis are taking notice. In a radical move designed to calm the fears of elderly residents, a ban has been imposed on the wearing of balaclavas in public.
Shetland local bobby, PC Murdoch, announced yesterday, 'These items of clothing can appear very sinister when worn on the head of a person with eyes and a mouth. I, myself have been frequently alarmed when confronted with such garments. I have nothing against the fashion industry and in fact welcome the youngsters desire to flaunt their flared trousers and saucy piercings, but I fear the balaclava is taking things a bit too far don't you think.'
A spokesperson for youths generally, Quentin Grasptight, said, 'I appreciate the constable's concern and shall be withdrawing my headwear forthwith and without further ado.'
The Reckless is relieved at the considerate nature of young people today and steadfastly refuses to recognise the belligerent noisy minority whose anti cardigan stance is given expression in the following sartorial morality ad:
NEW WONDER VIOLENCE PILL (published 20 April 2002)
Mindless automaton drug takes off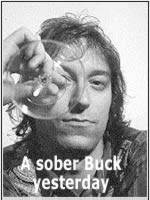 Following Peter Buck's acquittal over air rage charges, the manufacturers of the sleeping pill named as the cause of his outburst are aggressively marketing the drug as 'Smacko'.
A spokesperson for the company's marketing department, Squiffy Mashhead, beamed proudly yesterday:
'Taking just one of our new Smackos turns even the most placcid of clean-living family men into raving mindless automatons unaware of their actions.
'Think of the advantages of being able to lash out at anyone you fancy and having the right to deny responsibility later. We have already secured massive orders from disgruntled employees up and down the country waiting to give their bosses a good kicking just for a laugh.
'Smackos are now available from your local pharmacist for £59.99 a bottle. Hurry while stocks last and you too could be the next to innocently pulp the people you love to hate.'
BLENDER BREAKTHROUGH (published 20 April 2002)
Isn't science great?
Modern technology continues to astound with the announcement of the latest in kitchen appliances which turns all the crap lying around your house into beer:
STEPTOE SPECIAL (published 27 April 2002)
Air rage aired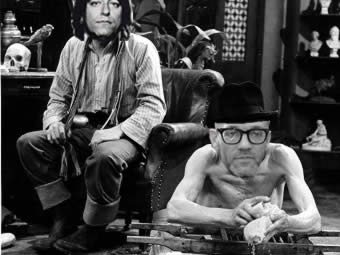 Peter Buck of REM's airplane antics has inspired a remake of the classic sitcom 'Steptoe and Son' featuring his fellow band member, Michael Stipe and a monkey. Click on link below for full length feature.
NOT ANGELA RIPPON (published 27 April 2002)
Secret identity type revelation thing
As accusations of dumbing down continue, the BBC yesterday released a video clip of one of its presenters portraying a light-hearted side of their otherwise undoubtedly serious persona, as they do: