T IN THE PARK SPECIAL 2 (published 3 August 2002)
Hot an' hoachin' wi talent
Once again the Reckless has selflessly went and gone and had a great time at the annual Let's Get Pished and Stoned fest they call T in the Park.
This year we can triumphantly declare that The Hives were without doubt the best thing since....well anything. They blew us away with a show only Green Day came close to topping.
Oh, and also honourable mentions to Mull Historical Society and Portugese punks, The Parkinsons, who also made us rock and laugh heartily. Oh yes. The Chemical Brothers were shite in a bath.
For full picture coverage click here.
MELON COLLIE (published 3 August 2002)

More scientific shenanigans
The latest wacky mutation to emerge from the labs of our craaaazy scientists is a cross between a melon and a collie: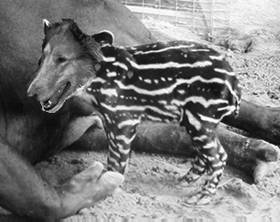 MEERKATS ON GUARD (published 10 August 2002)
Big Bar Bouncers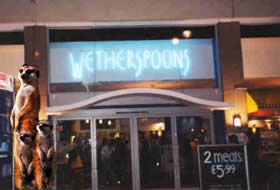 Pub chain Wetherspoons have taken on giant Meerkats to guard their premises due to a shortage of human type bouncers.
A spokesman for the company, Flaarty Bagsmetch, said yesterday, 'These guys are good. I'm all for scientific mutations if they come up with fellas like this. They're alert, cute and cheap. More huge rodents please.'
SHOTPUT SHIT SHOCK (published 17 August 2002)

Commonwealth Poo
The Reckless has uncovered secret film revealing where the Commonwealth Games people get their shotputs from:
SCHEMIE SHARKS (published 24 August 2002)
New Flood Danger
Tenants affected by the recent flooding have been warned that it's not only the loan sharks who are after them.
SNICK IDOL (published 31 August 2002)

Gifford Goes Ga Ga
The Reckless's very own virtual newsreader, Snick Gifford,has been offered a handsome two figure sum to appear in a They Might Be Giants video for Where Do They Make Balloons?
To watch the video click here.