RECKLESS REVIEW OF THE YEAR
Join our Arts correspondent, Tar Paulin, as he trawls through the images of 2001 in a Vision On sort of way. There is Flash involved...

POLTERGEIST INFECTS PAISLEY (published 5 January 2002)
Spooky Spook Spooks Squirrels

An apparition chucking stuff about and making life miserable for chartered accountants in and around the Paisley area of Scotland at Large is believed to be responsible for the undeniably lighthearted squirrel situation developing on the west coast.
The furry rodents are believed to be frightened by things no one else ever sees and that is why they jump alarmingly and randomly everytime you so much as glance their way. Apparently.
No one was available for anything at all in the quiet picturesque fishing village yesterday which has absolutely no resemblance whatsoever to Paisley.
The makers of 'What on Earth is Happening?' - the four hundred part current affairs programme currently being aired on Channel Digital Val Doonican - denied all knowledge, which is a brave and large claim for anyone to make, let alone a fictitious Television company.
KORRANG KAOS (published 12 January 2002)
Metal Magazine Mania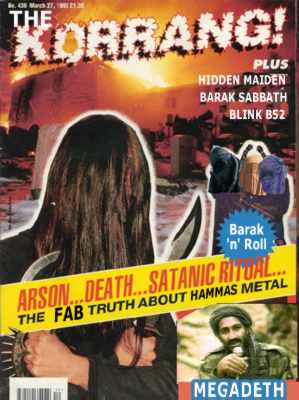 Copies of the new magazine for fans of fundamental Islamic Nu-metal are reportedly flying off the shelves of newsagents across Britain.
The phenomenon (known as Stuff Flying Off Newsagent Shelves Across Britain) appears to be unconnected to the infamous Poltergeist Squirrel Incidents in Paisley, although a police spokesperson was unavailable for trifle yesterday.
It is believed interest in the funky new craze that is sweeping the nation's yoof has reached epidemic proportions and that at some point somebody is going to have to do something.
Rippling Forehead, chairman of cult unexplained phenomenon splinter group, Blimey That's Weird, explained yesterday: 'Blargtish nurthersquash findaddly cum jamprop.'
Unfortunately our speaking in foreign tongues interpreter was not available and so we can only assume he was withering on about the price of mince.
CELTICA AND RANGELLA ARE TOPS (published 12 January 2002)
Nomenclature Numptiness
The most popular girls' names in Scotland last year were Celtica and Rangella.
Someone from the Pointless Statistics To Fill Up Newspapers Department, who declined to give his name for obvious reasons (??) said, 'Yes.' Someone else said, 'No', but then that always happens doesn't it, eh?
The top ten list was as follows:
1. Celtica
2. Rangella
3. Olivvy
4. Hibbernice
5. Patricia Thistle
6. Forfaria
7. Dunfermelina
8. Dairdrie
9. Clyda
10. Hamiltonya
DOLLY CALLS IN SICK (published 19 January 2002)
Mutton Malingerer
Dolly the cloned sheep has phoned up the work to say she won't be in after the New Year break.
Her boss, Ewan Huzarmi, said yesterday: 'She's not pulling the wool over my eyes. It's a classic case of Hangoveritis. I'm not happy. All the others are in the office today. Fair enough, Porky, Larry and Daffy are looking a bit rough, but at least they made the effort to drag themselves in.'
A spokesperson for the Sheep Union, British Amalgamted Animals, Mr Old Macdonald, commented, 'E, I, E, I, O.'
IL DUCE TO RUN TRAINS (published 19 January 2002)
Of course! Why didn't we think of it before?
Reports are coming in of the latest breakthrough in gene technology. Apparently, leading boffin, Rippling Forehead, and his team of brainy blokes in white coats have extracted the DNA from the rotten corpse of Benito Mussolini.
It is understood that they are, at this very juncture, reconstructing a clone of the jolly Italian fascist dictator in order to find someone who will make the trains run on time.
The clone of Il Duce will apparently be ready in time for the rush hour next Wednesday in a bid to ease the congestion caused by flocking tribes of journalists harrassing frustrated platfrorm punters everywhere.
IGGY POP IDOLS (published 26 January 2002)
Search and Destroy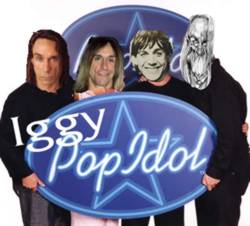 The search is on for a brand new Iggy Pop to replace the present aging model. Talent scouts have been scouring the country for possible inheritors to take over from the great uncle twice removed of Punk.
A spokesman for Trashy TV, Commissioner Gordon Bennet, said yesterday,
'It's what he would have wanted (if he were dead). It's sad to see a great American institution deteriorate in this way and we feel it's time the old Popster was rebranded for a new vibrant, shallower audience who have come to expect nothing more than vacuous, bland pap as their preferred choice of musical entertainment.'
The show will run for ever on ITV until everyone in the world has been auditioned and found wanting.
HARRY'S SONG (published 26 January 2002)
That pesky prince has burst into song. Our pop correspondent, Queasy Dunlop, has this exclusive preview...