DEAD MOUSE VIRUS SCARE (published July 7 2001)
Nasty Net Nonsense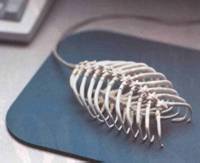 Millions of computer users across the world are today brushing the maggots from their desktops after being struck by a dead deadly dead mouse virus.
The government is issuing an emergency virus leaflet with a picture of an iceberg on it to show they care in an effort to combat the virus which causes actual skeletisation in seconds.
It is understood the virus originated in a secret government laboratory in Dunsurfin after an experiment involving squirrels, patio furniture and a bucket of creme de mental went horribly wrong causing scientific types to scream in terror and hurl themselves out of top storey windows to what is believed to be their deaths.
A spokesman for blokes in white coats said, 'Is this thing switched on?'
INTERNET SHUTDOWN (published July 14 2001)

Jings and, indeed, crivvens
Reports are coming through about the imminent closure of the internet due to loads of irresponsible people pushing big red buttons.
If you see any of these buttons please do not, repeat do not push them no matter how compelled you feel to do so.
Just so's you know by the way, one of these buttons was last seen here:
Click here for red button sighting (but do not press it).
MANICURISTS FOR MURDERERS (published July 21 2001)
Because they're worth it
People naturally disposed to reacting hysterically at any given opportunity are up in arms over the latest revelation about Scottish beauty consultants being flown to the US to treat hard as nails prisoners on death row.
'It's a disgrace,' said Edith Piles, 'I've been waiting to get my nails done for six minutes now and these so-called manicurists think they can just swan off to America at the tax payers expense and treat the murdering hands of convicted killers. I'm livid, I really am. I've a good mind to take my custom elsewhere.'
'I concur,' said another biddy in the shop.
'Well good for you,' said Edith, 'I can't. How exactly do you cur?'
And with that, Edith flounced out of the hairdressers and straight under the wheels of a waiting bus.
Shocked passers by stood about for a bit with their mouths agape but soon got over it and went about their daily business. The essence of the story was therefore lost in the needlessly over-dramatic turn of events in the previous sentence.
This is Hardly Feasible, Daily Reckless, Somewhere Wet.
PARTICK MONGOLIA (published July 21 2001)
Silly soccer shenanigans
Following Celtic's bid to join the English Premier, Partick Thistle have applied to become part of the Outer Mongolian First Division.
A spokeman for the Jags, Weir Mince, said:
'We have been approached by a representative of the Places Nobody Has Ever Heard Of Football Association who assures us that fame and fortune is ours for the taking if we relocate to Ulaan Bator and take on the might of their best teams, such as the under 13s Sunday Junior Squad (United).
'I can tell you we're bloody excited at the prospect. We have always felt we were a world class side and this proves it. Doesn't it? Excuse me, do you have something stuck in your throat?'
Stop Press: Hamilton Academicals are believed to be interested in joining, and I quote, 'Any bloody league that'll have us. Please.'
T IN THE PARK SPECIAL (published July 21 2001)
Ballboy rule OK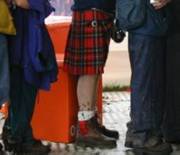 The Reckless camera crew braved the elements to bring you exclusive pics of the Saturday mudfest at T in the park.
Heroes of the day were undoubtedly the mighty ballboy (see Reckless ballboy page)who we stumbled across in the T-break tent. These guys were truly magnifico. Surely they should have been on the main stage in place of the predictable Stereophonics or boring Muse.
Other highlights of the day included the sublime James ("In 200 years time archaeologists will dig up our CD and discover that there really was intelligent life in the 21st Century") and Paisley's Biffy Clyro, all angst and manic, who were really great at shouting.
Your intrepid reporters, confusing their timetables and expecting The Divine Comedy, mistakenly caught Nelly Furtado, where we were hemmed in at the front of a very excitable crowd to witness the bizarre sight of a grown man, overcome with emotion (and other narcotics) push his way to the front in order to hurl his biker jacket at the delightful Nelly.
When The Comedy (or Sidney, as we old time MOR C&W fans like to call them) eventually appeared they were so bass heavy it sounded more like something from the Slam Tent. Our theory is they were trying to outboom the dreary Stereophonics who were plodding away on the main stage at the time.
Unfortunately we couldn't get in to the Proclaimers as it was absolutely stowed by the time we got there - a testament to the enduring pulling power of the Leithers cum Fifers. Luckily, we also managed to miss boring old fart Paul Weller and his oh so groovy chums.
Overall we really enjoyed being showered with beer from paper cups lobbed into the air but suspect that other bodily liquids were involved in the mixture. Our cameraman also managed to avoid snapping drunken teenage girls standing up to pee in the mens urinals and comatose bodies strewn around the fields buckfasted out and wasted. Litter Defence Volunteers would not have appreciated the debris.
Still, that's entertainment. And where else can you pay £2.80 for a plate of chips and beans? We never went on Sunday cos we spent all day in church at confession.
Click here for the virtual experience
RECKLESS WINS ANOTHER AWARD (published July 28 2001)

Pulitzer not far away
The fearless investigative investigating investigators who work for the Reckless have had their investigations officially recognised by those purveyors of high class journalism at the Brampton Bugle.
Despite the accusations aroused by our recent use of a controversial picture of an innocent piece of string (see story), the Bugle in its wisdom has awarded the Reckless its highly regarded Journalistic Integrity award, reproduced below:
STRING RIDDLE SOLVED (published July 28 2001)

You can all go home now

At long last the answer to the perennial question, How long is a piece of string? has been found. Blokes in white coats armed only with rulers and a steady hand have finally managed to solve the riddle after years of intensive poking about with bits of wood and stuff.
Jumping about with glee and general merriment, one expert, Gaye Abandon, enthusiatically enthused: "Isn't it brilliant eh? Look, look, it's more than 3 inches! All we have to do now is curl down the edges a bit and we'll have the definitive answer to the riddle which has taxed humankind since time began about fifty years ago in Auchtermuchty."
Another expert, Hugh Janus, said, "Is this thing switched on?"
It is believed government grants have now been secured for the dotty scientists to continue their research into the religious persuasion of the Pope and the toiletry habits of bears in woods.