EURO 2000 CANCELLED (published June 5 2000)
We're no playing and we want our ball back
It has been decided by the powers that be (The Daily Reckless bitter and twisted department) that Euro 2000 should be cancelled due to over English participation.
Instead, the Reckless is organising an alternative international competition called Bluenose 2000 featuring the cream of Scottish football (i.e. Rangers). This will involve Rangers trouncing all opposition to a pulp in order to emerge victorious.
Football fans from across the globe (i.e. Glasgow) have welcomed the move. One delighted punter, Billy Hunsman, exclaimed:
'It's a pure dead brilliant idea so it is. The wurld'll be able ti see the magic o' the teddy bears as they get stuck intae a'body an that by the way. Am I on telly, pal?'
It is hoped the event will be run in conjunction with the Mike Tyson fight at Hampden in order to satisfy the mob's unquenchable thirst for mindless tribalistic violence with a dollop of bigotry on top.
GLENROTHES GRUMBLES (published June 5 2000)
New Town Neurotics Nervy

The natives of Glenrothes, Fife, are up in arms over the humourous American cartoon series South Park which was inspired by the creators' visit to the town's South Parks district.
South Parks residents have finally been able to receive televisual images and are furious at what they have seen. They claim the series is portraying their town in a somewhat unfavourable light. Local inhabitant, Tony Fishface explained:
'I've never seen the programme but I believe it contains expletives and references to private parts. This is not the sort of impression we want the world to receive of our green and pleasant town. We have forty roundabouts you know!'
Councillor Cheesy Bypass expressed similar concerns. Speaking to a primitively fashioned glove puppet adorned with a makeshift top hat, he said: 'The citizens of Glenrothes have no wish to be associated with this kind of drivel. Ours is a decent upstanding community with no anal fixation or poo obsession, ok?'

It is understood that ITV are considering filming a docusoap in the area to be entitled, 'What the Hell is this Place?'
THE KIDS ARE ELITE (published June 12 2000)
OK Yah (Bass)
With elitism fever breaking out all over the government, the Reckless has learned of a frightening new brand of snobbery creeping in to teen culture.
In the mean streets of Morningside, youth gangs are apparently operating a 'no toffs' policy for new members. Anyone heard rounding their vowels or refusing to participate in the ritual guttural stop patois of mumbelese has been banished under the new draconian measures.
Morningside Monsta rapper, High T, commented, "Any kids who make the word 'so' last for ever, I'm tellin you bro' well it just ain't clever. They is not gettin to hang with us, you know what I'm sayin? They is missed the bus."
Hmmm. The Reckless says, It's like a jungle sometimes....but maybe not in Morningside, eh?
PC MADNESS (published June 12 2000)
PC's PC PC PinChed from PC

A police constable's politically correct personal computer has been stolen from the public convenience in Plaid Cymru's Party Campaign offices by Pontypridd College's Psychology Campus.
Asked why his PC was politically correct, PC Paul Clitoris (a Peter Cook fan) said:
'Police computers provide coded protection constantly. Passwords can prevent crooks, petty criminals, pinching computers. Politically correct passwords could, per chance, postpone criminals perpetrating corrupt, perfect crimes.'
Since the PC's PC PC was pinched from a public convenience, privvy councillor Percy Cutical (a Peter Cushing fan) has questioned the police constable's professional conduct. Sipping on a perculated coffee, he said:
'The matter has been referred to the Procurator Fiscal.'
Mr Cutical is understood to be not very good at continuing a running gag.

SOUTER YOU SIR! (published June 19 2000)
The new Mary Whitehouse speaks out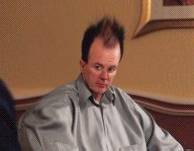 Sopious Souter, upholder of the nation's morals and recent referendum champ, has expressed his outrage at the smut being perpetrated by modern humourists.
Citing hit comedy programmes such as The Fist Show, Smack the Pinny and Fags Behaving Camply, the squeaky clean one declared (in his embarrassing Scots vernacular adopted to disguise his rather fey accent):
'Ah dinny laugh at it and ah'm no havin' it!'
Silly old soapy is believed to be unaware of fabulous comic strip The Souters.
E - AAAAAH! (published June 19 2000)
Cheap gag erupts at Sick People's Hospitals
Huge quantities of very sick people have been admitted to hospitals throughout the nation suffering from a surplus of TV medical drama.

The condition, known as "QuickNurseTheScreensitis" is believed to strike people down in their prime-time and make them very, very ill indeed.
A leading doctor, Marcus WellI'llbe, commented: 'Yes, it's true. These sick individuals can be quite happily ensconced on their favourite chaise-loungue watching, say, Emergency Ward Ten or whatever trendy hospital programme they're showing on the goggle box these days, and, literally within an hour they can be writhing in pain for no apparent reason. That's right, in about an hour. Fun, eh? Us doctors love this sort of thing. Pain that is. Can I say pulmonary artery, please? It makes me feel big and clever. Thank you.'
Sufferers from the disease can also be found walking around looking worthy and serious, diagnosing perfectly healthy people in the street and giving them illnesses with very long latin names for some smart reason.
The Reckless attempted to quiz other leading medical professionals on the subject but they refused to comment because they think they're great. So we went away because we couldn't be bothered anymore.
GRANNY SHOVED OFF BUS (published June 26 2000)
Another Scotch Myth exploded
Contrary to popular belief it appears that you can shove your granny off the bus. Reports are flooding in from all over Auchtermuchty of extensive practical research being carried out on this very subject.
One poor old dear lost her pandrops whilst being forcibly ejected from the No. 62 to Freuchie by an over-eager researcher.The researcher from the Phenomenae Chance Investigation Bureau, Kim Byer (my lord! Kim Byer!), said:
'She was a stubborn old gal. I had to prize her knuckles from the handrail as I launched her out the bus door, but I managed eventually to thunderous applause from my fellow passengers who couldn't believe it was possible.'

Miss Byer's future projects involve investigating whether or not we do indeed have any banannas, ascertaining the Pope's religion, following bears in woods around with a pooper-scooper and measuring several pieces of string in order to compile a database to finally solve the proverbial conundrum regarding length.
TYSON IN A TUTU (published June 26 2000)
He's not strange - he just likes hurting people!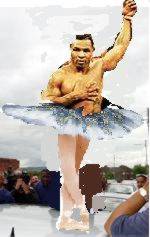 Mike Tyson pirouetted atop his Ford Mondeo in Glasgow yesterday for an impromptu photo opportunity.
Demonstrating his astonishing grasp of the pas de deux in front of an amazed crowd of press and passers-by, Mike commented: 'You looking at me?'
Reckless reporter, Forbes Mcgruff was brutally ejected from the scene by the boxer's personal attendants because he asked Mike to get his pecs out for the lads.
Several other people, including a nun, two babies and an old man in a wheelchair, were also manhandled in the incident which took place ahead of Tyson's upcoming heavyweight title fight against MSP Jim Wallace.
The matter has now been referred to the procurator fiscal. We have no idea what that means but they always say it on the Scottish news on telly.