BASIL BOUNCES BACK (published 1 March 2002)
Boom and er...boom
Puppet superstar Basil Brush is to return to TV following the ban on fox hunting in Scotland.
A delighted Basil quipped yesterday, "Yes, it's true. I have been in hiding in the Scottish Highlands for the past 20 years just waiting for this glorious moment. I am now hoping to reacquaint myself with Mr Derek or Roy 'It's grim up' North, who I believe has rather unfortunately recently upgraded his fulsomely fetching pudding bowl haircut."
When asked if he had thought of any new catchphrases during his enforced exile, Mr Brush replied, "Er...no."
CALL FOR LESS CALLS CALLING FOR THINGS (published 1 March 2002)
Newspaperspeak Rapped

A series of peculiarly undramatic incidents never quite materialised yesterday as nobody called for anything which is obviously lacking in the world at the moment.
In what is being seen as yet another example of empty headed verbiage, the person responsible for stuff that never really happened has spoken out for the fist time about an unsettling episode in his childhood which has caused him to exact revenge ever since on people who have no sense of timing.
His name is a closely guarded secret and he would like it to be known that it is not Antoine Scunnered.
'This madness has to stop,' he declared in an unidentified accent just outside the M4.
'When are people going to wake up and realise that they should have been asleep half an hour ago? It's intolerable, it really is. I've a good mind and a bad mind. Let the brain wars commence!'
As the paramedics led him away from the baying mob which had assembled with alarming rapidity after the first whiff of free shampoo, Antoine (for it was he) screamed,
'I know where you assemble! I'll get you, you braying mob if it's the last thing I do!'
DOVE REFUSES PIGEONHOLING (published 8 March 2002)
On a Wing and a Pair of Trainers

An animal, believed to be of the wingéd variety has spoken out on behalf of bohemian birds everywhere and declared a state of emergency in the sky and its immediate neighbour, the ground that doth have trees sticking out of it.
The bird, who refused to be named for unimaginative reasons, proceeded to spout forth in a manner more usually associated with personages from the sixteenth century. And it had a lisp.
There were loads of people just standing around going, 'Cripes and blow me over, this bird squawks like no other I have ever encountered in my long and distinguished career as a used carpet salesman in Tahiti and environs.'
Later a policeman was overheard to mutter, 'This is a diversion and I hereby declare a state of Divergency. Now where are the gents toilets for I have appendages to clean which must not be witnessed by the naked human type eye.'
Oh when will the madness end? We can exclusively reveal - next Thursday after Blue Peter.
NEW OLYMPIC SPORTS (published 8 March 2002)
Curling just isn't enough
The Olympic Committee has called for new sports to be added to the list of events we can win. The following suggestions, er, follow...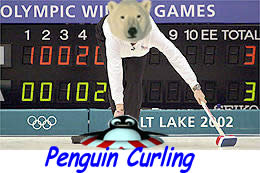 SPIKE MILLIGAN (published 15 March 2002)
1918- 2002
CLONING STEPS UP A GEAR (published 15 March 2002)

More Primates Please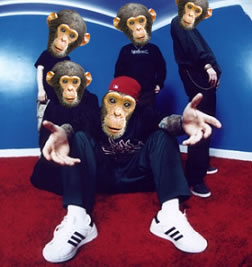 An increase in cloning cum crossbreeding in the wacky world of Genetic Jiggerypokery has resulted in all kinds of weird shit going down in language laboratories and playgroups up and down the merry land of make believe, or Science as it likes to be called.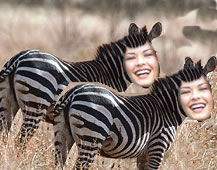 Our exclusive pictures reveal the full horror of recent developments involving the breeding of monkeys with rock stars to produce Chimp Bizkit and implanting squirrels on giraffes' heads. Catherine Zebra Clones have also been engineered.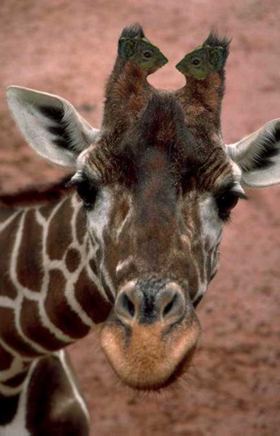 SPEED SKIIER GETS FASTER (published 22 March 2002)
Hey, I Don't Care Anymore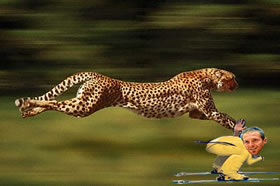 Alleged Olympic drugs abuser, Arriba (Speedy) Gonzalez has shrugged off reports that his ever increasing fastness is in any way related to the new lax laws encouraging happy pills all round.
Speaking from his secret hideaway at 53 Alraceyah Avenue, Aviemoremoremore, Arriba said yesterday,
"Weeeeeeeeeeeeeeeeee!"
HAVE YOU SEEN THIS MAN? (published 22 March 2002)
Those internet cults are at it again
A group of crazed internet guerillas have forced a man, a BMW and his lodgers to go into hiding after relentless mocking and cajoling.
The thirty something suburbanite who cannot be named for legal reasons but is in fact called Andrew Washington had to shut down his web site after innocently posting all his personal details, photographs and a map of how to get to his house on the internet.
A police spokesperson, PC Murdoch, explained: 'Just because the man is a complacent self satisfied homophobe with a love of photographing young ladies and the contents of their rooms does not give people the right to stalk him through cyberspace.'
A member of the psycho internutter kitty slaughtering website, b3ta.com, said, 'Woo.' (Web cyberslang for we are going to kill you all while you sleep - mwa, ha, ha, ha!)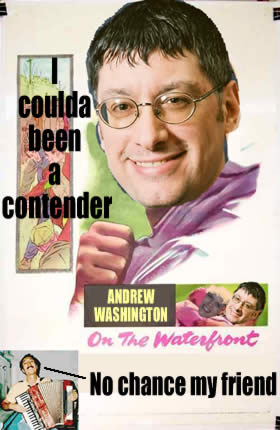 WILL LANDS COMIC STRIP DEAL (published 29 March 2002)
Because Pop Idolatory just isn't enough
Pop Idol and national treasure, Will T'Pau (or whatever his surname is) has signed a major cartoon strip deal with the Sunday Proust.
The top weekly sister paper to the Daily Reckless will run the strip for the forseeable future until it runs out of steam or is jumped on by lawyers. Episodes 1 and 2 can be seen here:
NO HIDING PLAICE (published 29 March 2002)
Fish Pun Horror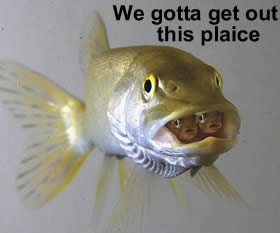 Pedants across the globe have denounced this latest outbreak of fish based punnery as ill judged and lacking in proper marine life research. The Reckless defends its use of the plaice on the grounds that the gag just wouldn't work on a haddock.