DUMB DOWN DENIALS (published 4 May2002)
BBC - Simple as 1,2,3...
The BBC (it rhymes with DDT,kids) has vehemently denied that its flagship 6 O'Clock News programme has dumbed down even further.
Complaints that the '6 Briefing' section of the programme was like being given a good talking to by the headteacher have been poo-poohed by the station's current affairs spokesperson, Squidmore Highfinch-Smythe, who told our man with the clipboard and crayons:
'What utter nonsense. The 6 Briefing is a chance for our newscasters to explain in detail the important issues of the day whilst pointing at nice big letters and groovy graphics. Now go and stand outside until you're ready for some grown-up reporting.'
The Reckless presents evidence to let readers make their own minds up:
FLYING PENGUINS (published 4 May2002)
Here little feller
Our exclusive pictures reveal the results of years of secretive training at an unknown camp in deepest Berkshire where penguins have been trained to fly and land on people's fingers at will.
The same camp is also behind the successful training of young boys to be able to count their knees.
KITTY INJECTIONS (published 11 May2002)
Elixir of Youth discovered
Our footage from the operating room at St Bartholemiaows shows Christine Hamilton receiving the latest youth and playfulness enhancing drug straight into her fizzog.
GLENCOE REBRANDED (published 11 May2002)
Anti- Capitalists This Way
Major advertisers are moving in on the Highlands' potential for product placement. Our picture shows the enormous implications of a possible meeting of Macdonalds and Campbells in the famous Glen.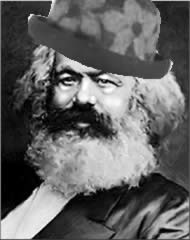 An anti-capitalist yesterday commented, 'Pass me that brick.'

Aunty Capitalist
ICE CREAM WARS - THE MOVIE (published 18 May2002)
Attack of the Cones
Plans are afoot to turn the ever fascinating Glasgow gang scene into a movie featuring JedIcecream warriors and Penny Chewbaccy.
Other characters rumoured to be involved include Princess Leia Alane, Yodancer and C3PYaBass.
Director Dod Loadsacash commented yesterday,
'I think Darth Vadar may indeed be controlling the dark Choc Ices and we're still negotiating with Andy Goram to play the part of Jabba the Hun.

Andy Goram yesterday
LA LA LAW (published 18 May2002)
That's the Way to Do It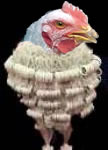 In an attempt to make courtrooms less intimidating to the poor wee scamps currently swamping the legal battlegrounds of the nation with their impish behaviour, barristers and judges have taken to wearing wacky wigs.
Our picture depicts an item of headwear resembling a chicken with its curlers in.
A spokesperson for the Justice Industry said yesterday, 'This is what they want. We are also looking at proposals to introduce strippers and stand up comics into the frankly stuffy atmosphere of our courtrooms.'
CHILDISH POLIS EXPOSED (published 25 May2002)

Immaturity rampant

A shocking new reality TV show, Teehee - It's the Cops, has shown that some officers of Her Majesty's Constabulary are not taking their responsibilities seriously as our clip reveals.
MEWS AT SIX (published 25 May2002)
Cats Chase Bird
Our exclusive footage shows the moment a group of militant pussy cats over-ran the Reporting Scotland studios protesting at the coquettish nature of purring newsreader Jackie Bird.