Fringe performers have been complaining of the cost of putting on a show at the Fringe, so this year the Daily Reckless has provided sponsorship for the poorest companies in order for them to stage their spectaculars in Sunny Pilton.
Check out our programme and support the skint but talented underclass in their heroic endeavours to entertain the ungrateful masses.

What's on and where to go at this year's Edinburgh Festival Sideburns.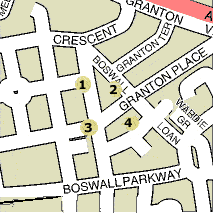 Venue Map
1. Rab's shed

2. Dougie's back green

3. Community Midden

4. Derelict wasteground and shooting gallery
Enjoy the friendly ambience of Rab's wooden hovel and relax in the company of fellow radges and wasters whilst sampling the haute couture of mince pies and deep fried mars bars.
Programme - more to be announced!
Three Men and a 2 Litre Bottle of White Lightning
You'll seriously piss yourself at the hilarious antics of Tam, Jam and Ham as they improvise their way through the philosophical quandaries of the age whilst bombed out their brains on a bench in the mysterious foreign land of the Nethergate Shopping Centre.
Aw Naw
Tragic drama recalling the dark days of pre-Heroin Embra as seen through the eyes of an impressionable lollipop man and his demented poodle, Billy. You'll laugh, you'll cry, you'll ask to have a hole drilled in your head…mebbes.
Oh Kilmarnock!
Breathtaking musical performed totally naked celebrating the wonder of life in the bustling metropolis that is Kilmarnock.
It's a Long Way to Aberfeldy
Nostalgic avant-garde production about the effects of fluoride in the water supply off the coast of Madagascar, near Aberfeldy.
Travels with my JCB
Join stand-up and fall ower local comedian Peter Pantswet as he explores the hilarious world of heavy goods vehicles.


Dougie has an unending supply of meths and rocket fuel for you to quaff as you languor in the sophisticated surroundings of his 6ft high weed collection amid damp mattresses.
Programme - more to be announced!
Well Bugger Me Sideways and Pass the Hypodermic,Vicar
Wild revue of incredibly amusing things, including the riotous goings-on in the famous Borlands Darts and TV shop on Leith Walk. Seriously funny, no really.
Midsummer's Night Schemie
Bold reinterpretation of the Shakespeare classic set in West Pilton and featuring a see-through dog juggling flaming chain saws on a unicycle.
Where Did You Get That Smack, Where Did You Get That Smack?
Harrowing drama following a day in the life of a bored telesales operator as she struggles to make sense of her life. With subtitles and erratic startling loud bangs for the easily drowsy.
West Pilton Footlights
Comedy sketch revue featuring members of the local community and their pets, both leashed and on tatty bits of rope. Not to be missed. Oh, sorry, that should read, Run away very fast.
Savour the unfettered delights of the local community's own contribution to the environmental heaven that is Pilton in the summer. Bring your own (half) bottle.
Programme - more to be announced!
My Brother's Wallpaper is Pish
Searing indictment of the human condition as performed by a group of Venezuelan deck chair attendants. Challenging mixture of opera and interior decorating.
Biggles Commits Perjury
Shocking kitchen sink drama juxtaposing a dog's dinner with the dilemmas faced by a fictional World War pilot and his cross dressing chums as they soar over the Dardanelles discussing recipe ideas.
What's That Stench?
Period piece set in the 12th century about the timeless problem of personal hygiene and its effects on the local wildlife.
That's Numptytainment!
A romp through the history of working class culture with top TV entertainer Michael Therapy.

| | |
| --- | --- |
| Derelict wasteground and shooting gallery | |
Wallow in the sheer unadulterated unspoilt bliss of this local beauty spot and lob half bricks at the act of your choice. Mind those dirty needles, though, kids!
Programme - more to be announced!
Wibbly Stingy Trout Balloons
Interpretative dance for the under fives.
Viv Lumsden Talks Bollocks
Famous celebrity gets involved in discussions with the locals, regaling them with hilarious anecdotes about newsreading, beards and comfy pullovers.
Tomorrow Belongs to Tufty
Tour de force comeback of the road safety squirrel in a cautionary futuristic musical about the evils of global capitalism.
Whose Wine Gums are These By the Way?
Cautionary tale of a young Glaswegian trapped in the downward spiral of confectionary addiction. Free sherbert at each performance.
For These Are My Pants
One-woman show with Honor Owen.
We're Dead Mental Us!
Scottish ministers prove they're really wacky by murdering a bunch of traditional folk tunes and making hugely funny satirical jibes in an effort to show that life is indeed a cabaret old chum.