NEWS published 12.02am

CHURCH CARTOON CAPER
Jesus Christ!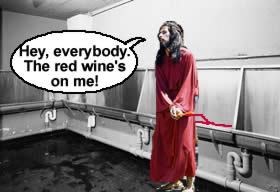 Church leaders flung up their robes in horror this week at the depiction of their superhero Jesus H Christmas turning his water into wine.
The picture (above) was deemed sacrilegious, blasphemous and bloody rude by god botherers across the land and humourless bigots in general.
When asked to comment on the publication of the heinous item in question, Daily Reckless proprietor, Meg Lomania, commented, "I'm thirsty. Out my way, the bar shuts in half an hour."